The innovation economy requires—and rewards—richer knowledge, sharper skills, entrepreneurial drive and a global mindset. Ultimately the edge belongs to those who bring inspiration and purpose to their work.
Within this climate, the Leeds School of Business embarks on an innovation agenda designed to leverage our unique assets: the intellectual capital of Leeds faculty, our focus on the 'whole student' experience, our strong connection to alumni and industry partners, and an intellectually robust and beautiful community.
Together, these assets make Leeds uniquely qualified to deliver on our mission of educating principled, innovative leaders who drive value.
Intellectual Capital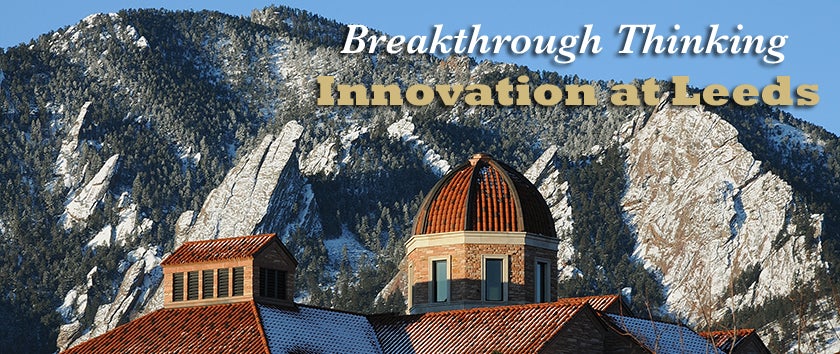 Leeds faculty advance knowledge, innovation and discovery through excellence in research and research-based teaching.
World-class faculty provide the foundation for breakthrough thinking—creating knowledge from research, disseminating knowledge through teaching, and applying knowledge in collaboration with the business community. Faculty discoveries are widely published in prestigious academic journals, which enhance the school's academic reputation and inspire innovation.
Capitalizing on this knowledge, Leeds has designed a business curriculum to deliver the most relevant education for the new economy. Undergraduate studies offer an integrated understanding of core disciplines, both in class and in real-world settings. Graduate studies provide greater specialization to enhance career development.
As a result, every Leeds graduate is prepared to make an immediate impact.
'Whole Student' Experience
Recruiters from more than 90 employers take part in the Leeds Career Fair each year.
From orientation to graduation, Leeds guides students to discover and optimize their potential. Through an array of targeted services, students create an individualized journey that fosters skills development for lifelong impact.
The Center for Education on Social Responsibility inspires broad-scope values development, which is infused in all subject areas and brought to life through action learning.
The Leeds Mentoring Office supports student success through peer and professional mentoring relationships that contribute personal connections and valuable real-world insight, perspective and inspiration.
Career Development targets the individualized needs of today's business students through career planning and placement. Employers enjoy access to a talent pool of graduates prepared to make sound strategic decisions.
Global Initiatives provide a growing portfolio of opportunities—including seminars, internships and study-abroad opportunities—that ensure a world of diverse learning opportunities is within reach for every Leeds student.
The Leeds Scholars Program targets development opportunities for the highest performing students, helping to attract and retain Colorado's best and brightest.
The Office of Diversity Affairs supports an inclusive learning environment to bolster a diverse student body.
Learn more about Leeds School's student resources
Connections
The Professional Mentorship Program includes representation from more than 400 companies in five countries. Many mentors like Peter Cushman, right, are CU alumni.
Great business schools enjoy strong networks, and Leeds alumni and industry partners around the world stand united to offer a meaningful level of engagement with students, faculty and other key stakeholders.
Centers of Excellence within Leeds create important channels by which faculty and students connect with thought leaders in key industries:
Business Research Division
Burridge Center for Finance
Center for Education on Social Responsibility
Center for Research on Consumer Financial Decision Making
CU Real Estate Center
Deming Center for Entrepreneurship
Learn more about Leeds School's Centers of Excellence
The Professional Mentorship Program ensures graduates are poised for maximum impact. Industry support for this program is galvanized by the participation of Leeds alumni.
The GOLD Board, Graduates of the Last Decade, is energizing a broader demographic of stakeholders by engaging young alumni at Leeds.
Corporate Partnerships infuse relevance to Leeds' curriculum innovation, supporting new programs and providing the school access to professional talent. Representation on the Leeds Board of Alumni & Friends as well as other advisory boards gives strengthens numerous educational priorities.
Community
Boulder has a diverse and healthy economy, which attracts top intellectual talent to a community that is beautiful and full of life.
Leeds joins the University of Colorado and the Boulder community to provide inspiration that extends beyond the region's breathtaking vistas and generates extraordinary opportunities for students.
CU-Boulder is home to a concentration of brainpower that includes five Nobel laureates and numerous other scholars helping to shape the industries of the future. Cross-campus collaborations with engineering and science link Leeds faculty and students with more resources to put innovation into action.
Boulder—ranked #1 among U.S. cities for thriving start-up companies*—contributes intellectual energy through a high concentration of advanced technology industries such as aerospace, bioscience, nanotechnology, and renewable energy. Visionary entrepreneurs converge upon one of the smartest communities in the nation to enjoy a beautiful setting that offers an unmatched quality of life.
* Source: CNNMoney