Scholarship will Benefit Students Pursuing a Social Responsibility and Ethics Certificate
You are here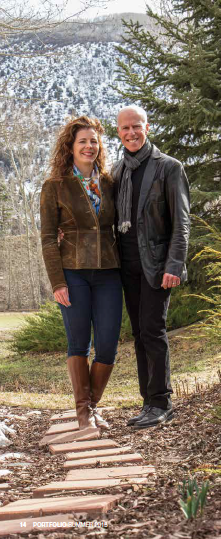 Marc Prisant and Michael Leeds ('74 finance) went to the same junior and senior high schools in New York. They both went to colleges, albeit different ones, in Colorado. Though they knew of each other, it wasn't until their high school's 40th reunion that the two became fast friends, and now that friendship has evolved into a commitment to support the future of values-driven business leaders at CU-Boulder.
The new Marc Prisant and Heidi Heltzel Scholarship for Ethics and Social Responsibility, named for the donors, will benefit students pursuing a Social Responsibility and Ethics (SRE) Certificate. "Social responsibility and ethics have been guiding principles in our lives and careers, and we can think of nothing more important to support," says Prisant. "Now, thanks to the creation of this scholarship, it will also be part of our legacy."
The scholarship, which will award two $5,000 scholarships annually starting this fall, is a component of a significant bequest commitment by Heltzel and Prisant to support the Center for Education on Social Responsibility (CESR), which offers a values infused undergraduate curriculum from a student's first year to graduation.
"We really do believe CESR is a premier model that needs the opportunity to mature and develop further, and this could be a great model for business ethics education for other educational institutions to follow," says Heltzel. "If we can help CU develop this, we're not just paying it forward to the CU community, but to the academic community and the next generation of leaders in all professions."
"We hope our demonstrated commitment will inspire other people to support the CESR program." Marc Prisant
Michael Leeds, whose family committed a transformational gift to the CU-Boulder business school in 2001, says he was thrilled that Prisant and Heltzel chose to support student scholarships at his alma mater. "While I introduced my great friends to Leeds and CESR, it was the vision and leadership of the entire CESR team that convinced Marc and Heidi this was the best place to make an impact," he adds. "I'm looking forward to working with them on this special scholarship program that will support more of our students becoming values-driven leaders."
Through the SRE Certificate program, students can study environmental sustainability, social entrepreneurship, corporate ethics or values-driven leadership. By this spring, a total of 94 students will have graduated with an SRE Certificate. "SRE students are creative, empathetic and courageous. They dare to be leaders who apply their business acumen to benefit the most vulnerable," says Mark Meaney, CESR executive director. SRE students can take electives such as Business Solutions for the Developing World or Sustainable Operations, and they are required to intern or study abroad in a setting where they can learn necessary business skills and see the social impact of businesses firsthand.
Heidi Heltzel and Marc Prisant. Photo by Stephanie Scott.