You are here
Home
/ Karla del Rosal joins Southern Methodist University as Assistant Professor of Bilingual Education
Karla del Rosal joins Southern Methodist University as Assistant Professor of Bilingual Education
April 15, 2014
Doctoral candidate Karla del Rosal will join the Annette Caldwell Simmons School of Education and Human Development at Southern Methodist University in Dallas, Texas in fall 2014.
As Assistant Professor of English Language Learning and Bilingual Education, Karla will continue to pursue her research interests in the education of emergent bilingual students in early childhood to 12th grade science and mathematics classrooms. She is specifically interested in academic language and literacy development of emergent bilinguals and in teacher education and professional development for teachers of this growing student population.
Karla joined the School of Education as a Miramontes Scholar, a program that competitively awards three fellowships per year to doctoral students whose research interests focus on equity and cultural diversity in education. The fellowship was established in honor of Professor Ofelia Miramontes, who was a nationally renowned bilingual scholar, beloved teacher, and celebrated community leader.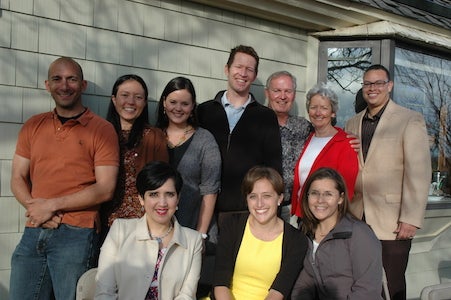 Miramontes Scholars, 1st row (L to R): Karla del Rosal, Jackie Hernandez, Magda Chía; 2nd row (L to R): Vincent Basile, Jessica Alzen, Adriana Alvarez, Sam Severance, founders Bill and Connie Hoon Barclay, Josh Prudhomme