Critical Media Practices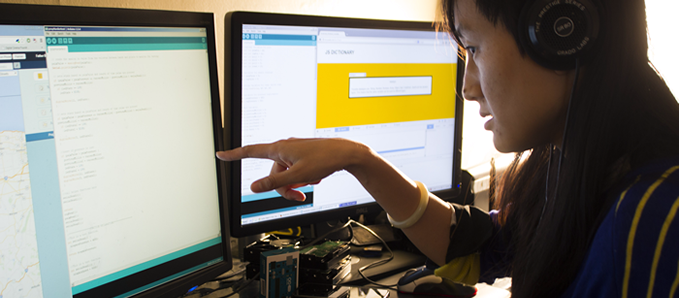 How can you create your own media mash-up—drawing from new media tools, virtually without limitation?
How has technological innovation shaped how we produce sounds, images and social experiences?
How are visual aesthetics produced and circulated across global cultures?
The Department of Critical Media Practices prepares you to be a creative media-maker at the forefront of the 21st century's emerging cultural industries. You will learn how to produce and analyze media artifacts across many platforms, technologies and practices and study critical theory to place digital media within the broader perspectives of culture and history.
In small classes, you'll explore cross-platform media production, computer-generated media and the use of media to study diverse cultures, as well as other forms of media arts practices such as mobile media and performance art. Class topics include nonfiction multimedia projects, production for small screens, interactive media and innovative approaches to web media.
Our production workshops and media labs offer hands-on experience with a variety of media tools, including digital photography, hybrid work flows, DSLRs, large-scale video production projects, audio/video editing and open-source programming. Off campus, Boulder's thriving creative community, which includes many award-winning filmmakers and artists, provides opportunities to intern and network with experts.
Let the Department of Critical Media Practices prepare you for an innovative career in media production, critical scholarship and media exhibition.
The Department of Critical Media Practices also offers a master of fine arts in interdisciplinary documentary media practices, which begins in fall 2015. The department will also offer a PhD in emergent technologies and media art practices, to begin in fall 2016. Applications for the PhD will be available beginning in July 2015. Learn more »
Your Potential Careers
multimedia production
documentary media
cultural industries
social media
curatorial programming
digital archiving