Trep Café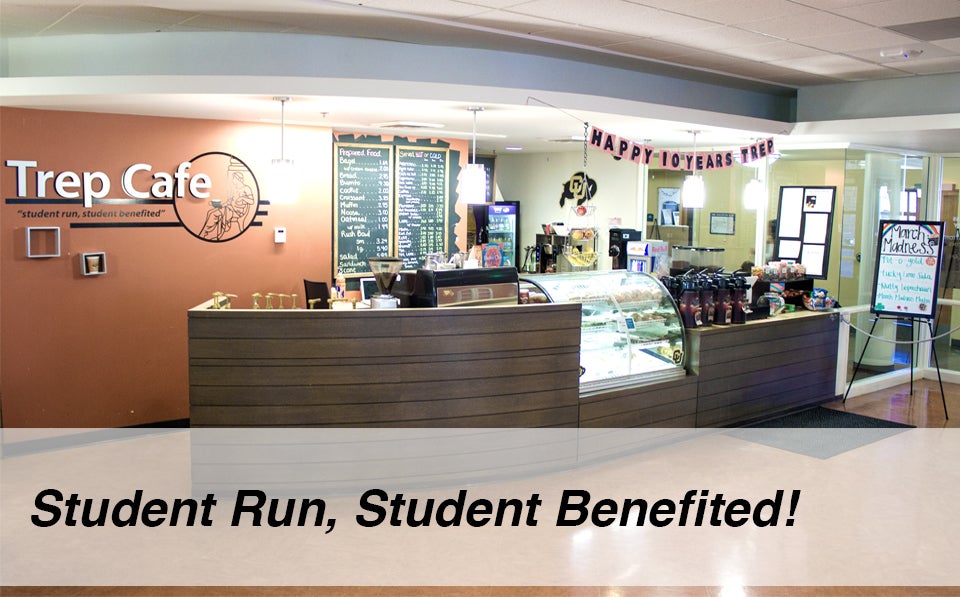 Trep Café (short for entrepreneur) is a student-run small business which operates as a non-profit organization that funds student scholarships. The café provides invaluable business experience for the student management team in charge of operations and a fully-functioning café and coffeehouse that serves the Leeds School of Business at the University of Colorado at Boulder.
Trep Café was founded in 2005 by a group of undergraduates from the Deming Center for Entrepreneurship in the Leeds School of Business. Undergraduates run Trep Café as a small business, overseeing daily operations and making decisions in Human Resources, Marketing and Communications, Finance and Accounting, and Supply Chain and Inventory Operations. Students also work as baristas in the café. The Trep Website and Logo was built and designed by previous CU Boulder students Helenayu Biying Su, Emily Lin, and (Jing) Zijing Liu.
We offer a variety of beverages, breakfast and lunch items as well as an all-new catering program offered to faculty, staff and students within Leeds. Trep Café is located on the second floor of the Leeds School of Business outside the business library on the University of Colorado at Boulder campus in Boulder, Colorado.
Scholarships
Trep Café awards approximately $12,000 in scholarships every year to the Leeds School of Business.
Apply for scholarships at http://www.colorado.edu/business/scholarships
In order to be eligible for a Trep Café scholarship you must meet the following criteria:
CU Boulder Leeds Business undergraduate student
working student (currently employed)
minimum GPA of 3.0
demonstrate leadership, innovation and business savvy
**One scholarship will be awarded specifically to an Entrepreneurship Certificate student.